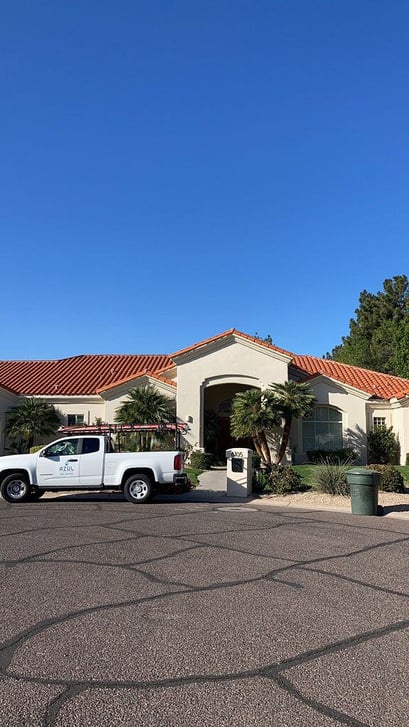 When it comes to your roof, quality materials, work, and maintenance should always be top of mind. Your roof is protecting most of your biggest investments: your home and your worldly possessions. Quality roofing starts on day one with your research of a licensed, bonded, and insured roofing contractor. But once you've found one that looks good on paper, it's important to continue your due diligence to ensure they are indeed deserving of such an important responsibility.
Before signing your roofing contract, there are some important questions you should ask. These can help prevent a poor job and costly roof repairs by weeding out unqualified or dishonest roofing contractors. To help you with your list, we've put together some preliminary questions you should ask before signing a contract.
1. What level of roofing insurance do you have?
It's easy to lie and say, "Yes, we have insurance" instead of giving specifics, which is why we recommend rephrasing it to dig a little deeper. Falls happen and qualified roofing contractors should have workman's compensation and liability insurance to protect the homeowner from accidents. If you hire a company with inadequate insurance and an accident happens on your property, you could potentially be paying thousands of dollars in medical bills. Ensuring your contractor has insurance protects you from this unfortunate situation.
2. What is your full company name, phone number, and physical address?
Posing as a qualified roofing contractor online can be pretty easy nowadays, which is why ensuring that your prospective contractor has an actual physical location will help determine if they are legitimate, local, and reliable. This is especially important after the job is done. What if an issue persists, but you can't find them now because they were posing under a fake company name? What if they weren't a local company and now they're unavailable to travel back to re-service your roof? These are important factors to consider when searching for a local roofing company.
3. How many years of experience does your roofing team have?
Since roofing has a relatively low job entry cost, there are a lot of unqualified roofers in the industry who may not have the experience to do quality work on your roof. Asking about the company's roofing experience will help you determine whether or not they know the industry, have the experience and skill to do a job properly, and if they will be around for the length of your roof's warranty and lifespan. Knowing what professional memberships and certifications, like Arizona Roofing Contractors Association your roofing contractor is a part of can also help you determine their experience and expertise.
4. What is the warranty on your work and products?
There are usually two different warranties involved with roofing projects. One is on the work of the roof provided by the roofing company and the other is a warranty on the materials used provided by the manufacturer. Be sure to ask what is covered under each warranty and how long the warranties last.
5. Do you have a roofing contractor license?
Many states, including Arizona, require a roofer to be licensed. While an unlicensed contractor might offer cheaper services than a licensed one, you truly get what you pay for. There are multiple reasons why it's important to choose a licensed contractor over an unlicensed one. Licensed roofing contractors know the industry in and out, they offer the best warranties, carry insurance, will never ask for illegal payment methods, and generally require and provide some sort of professional training for their staff.
At Azul Roofing Solutions, we're happy to answer all of these questions and any others you might have. If you're worried about your roof, we invite you to contact us to schedule a free roof evaluation.